As Your Network Administrator, we look at your business as if it is our own.
In the advancing world we live in, it is hard to know what technologies are current and efficient. It is also difficult to assess IT problems, when you aren't quite sure what is actually the root of the problem. It can seem that when you are trying to solve any kind of network problem, that something else goes wrong..
Choose a Network Administrator that's ON YOUR SIDE.
We have locations in Buffalo, Albany, Syracuse, and New York, so we are available to access your business no matter where you are located. A network administrator from Vitec would be one of our professionals taking over your network. VITEC's network administrators keep your systems operational and monitor functions and operations within the network. They would also make sure that all of your companies software is up to date, while keeping cyber threats at bay.
By choosing VITEC as your new network administrator, you are choosing an IT company that has a track record for success. VITEC is here to help you with any technological needs, as well as the support your network needs. Whether your business is large or small, VITEC is the only technological solution you need.
If your technology is causing you stress, let VITEC help. We are here for any of your network needs. Give us a call, we look forward to working with you!
For Service, Sales or Help Desk Support Please Call: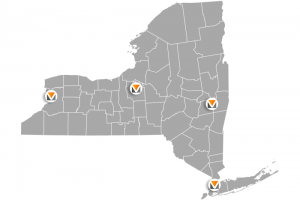 Customer Service:  800-333-1075     Sales: 716-204-9200
Helpdesk:  855-312-0818    Email:  info@vitecsolutions.com
Buffalo
611 Jamison Rd.
Suite 4104
Elma, NY  14059
(Corporate Headquarters) 
Syracuse
6075 Corporate Drive
Suite 2
East Syracuse, NY  13057
Albany
5 Computer Drive West
Suite 102
Albany, NY  12205
New York
75 Maiden Lane
Suite 501
New York, NY  10038