Turn to a Network Engineer Who Will Set You Up for Success
When you are starting your own business, or jumping into a new technological feat, things like setting up networks and data servers can get hectic. It is on leadership to ensure choosing a network engineer who is going to set them up to succeed. At VITEC, we are here to make it simple. As your IT solution company, VITEC packages everything you may possibly need into a simple complete package!
A network engineer is someone who has the IT expertise to plan, apply, and support in house networks. Their network is able to support any kind of media your business uses, such as data, voice, video or wireless services. Even though this job sound similar to a network administrator, the engineering side deals with planning, design, and technical specifications.
The administration side of things deals mostly with day-to-day maintenance, management and troubleshooting efforts. VITEC has the network professionals that can help you. Our network engineers can build you a secure network. Our helpdesk is there to help you whenever you need it.
If you are frustrated with finding a network engineer for your company, let us help. VITEC's professional network engineers will build your network for you. Call us today!
For Service, Sales or Help Desk Support Please Call: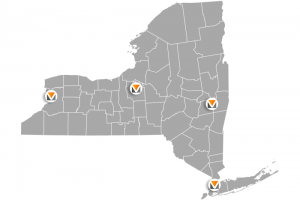 Customer Service:  800-333-1075     Sales: 716-204-9200
Helpdesk:  855-312-0818    Email:  info@vitecsolutions.com
Buffalo
611 Jamison Rd.
Suite 4104
Elma, NY  14059
(Corporate Headquarters) 
Syracuse
6075 Corporate Drive
Suite 2
East Syracuse, NY  13057
Albany
5 Computer Drive West
Suite 102
Albany, NY  12205
New York
75 Maiden Lane
Suite 501
New York, NY  10038