Cybercrime is Real. Network Security is Vital.
In recent times, it seems like everyone is talking about cyber security. Everyone is concerned with with the threat of cybercriminal activity in the form of things like ransomware, hacks, and other major disasters. But, industry professionals will urge you to look at your network as well. What is a secure network? VITEC Solutions has all your answers.
Network security is concerned with the files and documents in your network. A secure network has multiple layers of protection. A secure network makes sure that there are policies and redirects in effect that will take care of any malicious attackers.
VITEC understands how important it is to have both a secure network and to be protected from cyber attacks.
We are always there to offer protection and support. Let VITEC Solutions worry about your network security, so you don't have to. Call VITEC Solutions and let our  professional network administrators and engineers build you a secure network. With locations in Buffalo, Syracuse, Albany, and New York, we are available anytime, anywhere! Call us today!  
For Service, Sales or Help Desk Support Please Call: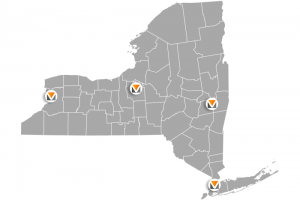 Customer Service:  800-333-1075     Sales: 716-204-9200
Helpdesk:  855-312-0818    Email:  info@vitecsolutions.com
Buffalo
611 Jamison Rd.
Suite 4104
Elma, NY  14059
(Corporate Headquarters) 
Syracuse
6075 Corporate Drive
Suite 2
East Syracuse, NY  13057
Albany
5 Computer Drive West
Suite 102
Albany, NY  12205
New York
75 Maiden Lane
Suite 501
New York, NY  10038